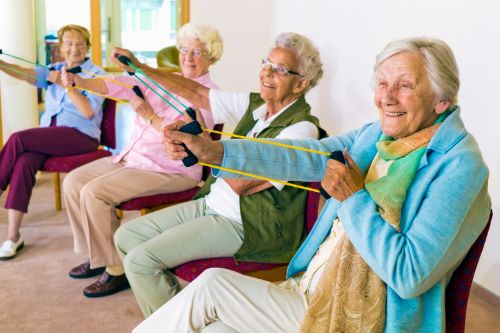 The activity calendar is designed with the residents' interests in mind.  Weekly outings include shopping trips, museum tours, and outdoor concert performances.  In-house recitals and happy hour sessions can be found as a staple on the calendar, while educational speakers such as, the Delaware Historical Society deliver presentations on requested topics. 
EXERCISE
Freedom of movement and endurance is a vital aspect to healthy aging.  Daily stretch classes are offered to keep residents moving about while weekly group fitness classes led by a physical therapist, target balance and particular group mobility issues identified by the Lodge Lane treatment team.  The fitness room offers a variety of exercise equipment for residents to utilize on their own, or residents may join a group class from the calendar such as chair yoga.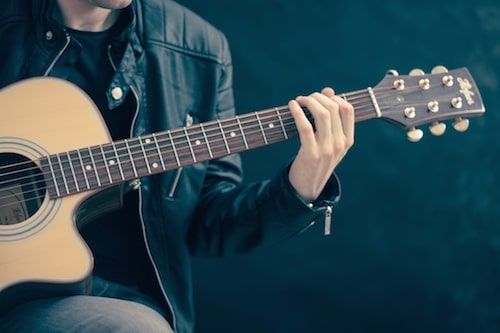 MUSIC
Music plays such a large role throughout our lives.  Live performances are listed weekly on the activity calendar.  However, as a certified Music and Memory© organization, the Activity staff work with the resident and family members to create personalized playlists for resident use, particularly on the Memory Neighborhood.  Multiple studies have shown that there are emotional and behavioral benefits associated to music-based interventions.  Lodge Lane continually looks to increase their music library to accommodate all listening genres.  Please see the Activity Department to assist in creating your loved one's personal playlist, donate CD's or music iPods.  
RELIGION
Shabbat services are offered in the chapel at Lodge Lane every other Friday afternoon as well as every Friday evening and Saturday morning at Kutz Rehabilitation & Nursing.  A Catholic Mass is held at Lodge Lane monthly and a non-denominational Bible study is offered weekly.  Residents and guests of all faiths are welcomed at any time.  Anyone wishing to arrange a religious ceremony or gathering within the Community can speak with the Activity Department.
FURRY VISITORS
 

Animals are part of the family too and great therapeutic partners.  Lodge Lane is pet-friendly with weekly visits from Paws for People.  If you have a furry friend who would like to visit, we ask that you provide a copy of their current vaccinations with our front desk staff for our records.  Animals must be leashed at all times.  If you are interested in keeping a pet in your apartment, please speak with Administration regarding our pet policy and guidelines.